CT Mirror: The Price of Energy is Going Up
Posted November 19, 2021
Brenda Watson, now the executive director of Operation Fuel, which helps low-income people pay energy bills, recalled multiple weather emergencies at the time that caused them to go through $1 million of fuel assistance in six weeks. "We were sitting around the table – how can we help people?" she said. "We weren't against [the idea of opting for gas expansion]. We weren't attuned to the environmental impact at the time. Now I know better." Read more here.
iHeartRadio: Op Fuel Executive Director Talks Winter Assistance
Posted: November 7, 2021
Here is Renee DiNino's interview with Brenda Watson, Executive Director of Operation Fuel. She chats about Operation Fuel's mission to provide year-round energy and utility assistance, promote energy independence, and advocate for affordable energy for Connecticut residents. Listen online here.
NBC Connecticut: Home Heating Costs Predicted to Spike this Winter
Posted November 5, 2021
"I've fallen behind. I can't keep up," said Wanda Flores, inside her Beacon Street home in Hartford. Flores, who has been in a wheelchair  decades because of a rare genetic disease, owes Eversource $1,194 for electricity, a bill that she's been struggling to catch up on since May. "I've never had a bill this high in my entire life," said Flores. Add that to her natural gas bill and she owes nearly $1,500. For the last several years, Flores has turned to Operation Fuel, a charity that gives out $500 grants to those who need help paying their utility bills. Click here for full video.
Fox 61: Home Heating Bills Expected to Increase This Winter
Posted November 1, 2021
"We know that COVID has put a lot of hardships on people we know that people have had job losses or hours cut," said Dana Barcellos-Allen, marketing and development director for Operation Fuel. The organization has already started to see that increase. "As a matter of fact even in the early fall once we started hearing that the moratorium on some of the utilities was going to be ending we started seeing more applications come in then." Click here for full video.
WFSB Video: Home Heating Costs Expected to Surge this Year, How Operation Fuel Helps
Posted: October 14, 2021
Feel free to share and help spread the word
If you or someone you know needs help with home heating prices, don't be afraid to contact Operation Fuel, Inc. They help with home heating oil and electric bills — and the demand is expected to rise this winter. Thanks to Dana Barcellos-Allen for joining us on WFSB – Channel 3 Eyewitness News at 4:30. Click here for full video.
WTIC NewsTalk 1080: Utility Shutoff Moratorium Ends for Non-Hardship Customers
Posted: October 2, 2021
Click here to read full story. Connecticut's moratorium that barred utility companies from shutting off services because of unpaid bills ends Wednesday for residents who are not classified as having a financial hardship. The state put the moratorium in place in response to the COVID-19 pandemic in an effort to help families that were struggling financially. With the end of the moratorium, customers who are not considered to have financial hardships may soon see bills with shutoff notices coming in the mail.
This may come as a shock for residents who are still struggling financially, Operation Fuel Executive Director Brenda Watson said. Watson recommends residents who are facing this challenge to reach out to the utility company to see if they qualify for having financial hardship or to learn about any payment plans they offer.
"I understand that the utilities are at the point now where they are willing to work with any customer who calls them and notes that they're struggling with the cost of their utility bills," she said.
WFSB Better Connecticut: Operation Fuel Helping Local Families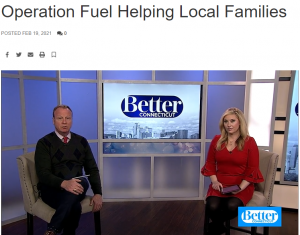 Posted: February 22, 2021
Click here for an in-depth look at Operation Fuel's application process for applying for utility bill and energy assistance through Operation Fuel's online portal at operationfuel.org/gethelp.
Due to the pandemic, many families are struggling with the most basic needs; one of those is keeping their family warm. Brenda Watson is the executive director of Operation Fuel, she is telling us about the program.
WTNH: Operation Fuel on a Mission
Click here to see Operation Fuel Executive Director Brenda Watson talk with WTNH News 8 about how people struggling with utility bills can now apply online for financial assistance at operationfuel.org/gethelp
(WTNH) — With winter here, some people are finding it hard to afford their heating bills.
Brenda Watson, Operation Fuel's Executive Director, joined News 8 to explain how to get help and how to help others.
There are over 400,000 households in Connecticut who struggle with the cost of home energy.
There are two ways people can help those who are struggling:
Let people know that helpful resources are available
Add a dollar to your monthly utility bill
If you need to apply for assistance, call 211 or go to operationfuel.org/gethelp.