GIVE HELP
Home energy costs continue to be an overwhelming burden to more than 400,000 Connecticut residents, However, you can help make a difference in their lives.
Operation Fuel is now participating in the Traveler's Championship, Birdies For Charity Program!
Launched in 2004, Birdies for Charity provides many nonprofits in Connecticut an opportunity to raise awareness for its cause. For every donation made to Operation Fuel, 15% will be matched. To make this process smooth and easy, you should expect this page to redirect you to the Birdies for Charity donation page. All the funds you donate through this webpage will come to Operation Fuel along with the additional bonus. Thank you from the entire Operation Fuel team for your generous donation and for supporting our mission! 
How to Donate:
Donate Online: By clicking here or the DONATE button to the right, you will be brought to the donation page dedicated to Operation Fuel for this program!
Donate by check: The minimum amount for a check donation is $200. All checks should be made out to Travelers Championship or Birdies For Charity and mailed to the address below with a donation card (click here to download) that indicates your donation is for Operation Fuel.
Travelers Championship
Attn: Birdies for Charity
90 State House Square, 11th Floor
Hartford, CT 06103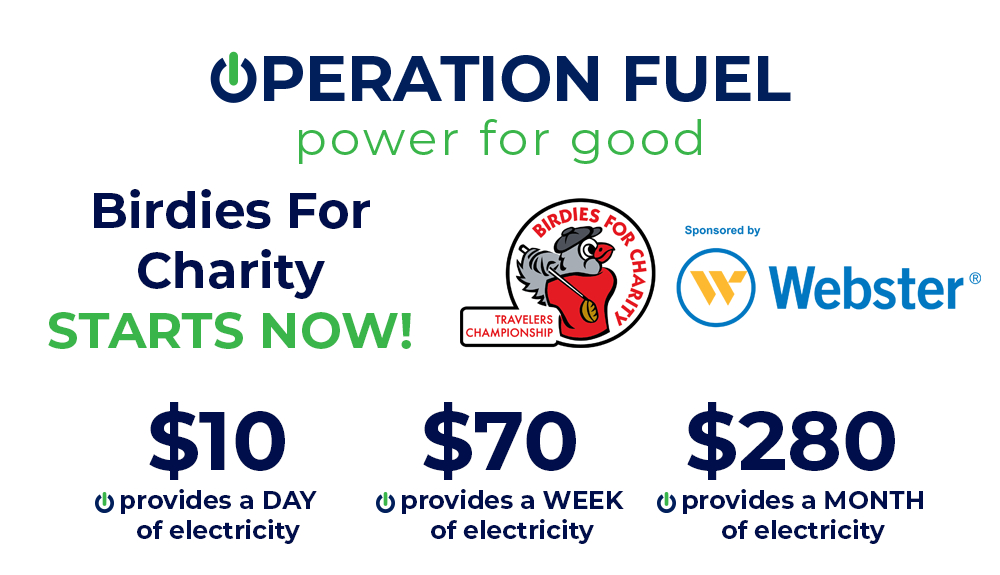 ADD-A-DOLLAR: Easiest Way to Give
One of the easiest ways to support families struggling with energy costs is through Operation Fuel's Add-a-Dollar program, where we partner with utility providers so customers can conveniently add a one-time or monthly donation to their utility bill, and the providers send your donation to us so we can use it to help families. 100% of the money collected for the Add-a-Dollar program goes directly to providing energy assistance for Connecticut households.
Click one of our energy partners below to learn more and begin powering your Connecticut neighbors in need.
DONATE TO POWER CT FAMILIES!
Donate Online:
From now until June 25th, 2023, donate through Traveler's Birdies For Charity Program and receive a 15% match!
DONATE BY TEXT:
To make a donation from your mobile phone directly to Operation Fuel, text OPFUEL to 44321.
DONATE BY MAIL:
Send your donation directly to Operation Fuel at 75 Charter Oak Avenue, Suite 2-240, Hartford, CT 06106.
OTHER WAYS TO
POWER FAMILIES
MATCHING GIFTS:
Maximize the impact of your gift by having it matched by your employer. Many companies offer matching-gift programs for charitable donations made by their employees, which could double or even triple the value of your contribution. Check with your company for more information and send the matching gift forms in with your donation!
STOCK TRANSFERS:
If you'd like to make a gift of stock to Operation Fuel, please instruct your financial institution in writing to deliver the shares or securities to:
LPL Financial, DTC# 0075, 4707 Executive Drive, San Diego, CA  92121. Operation Fuel Account #38076557
A copy of the same letter should be sent to Brenda Watson, Executive Director, at Operation Fuel, 75 Charter Oak Avenue, Suite 2-240, Hartford, CT 06106. Please include in the instructions that the shares/securities are for Operation Fuel account #38076557.
LEGACY GIVING:
You can make a lasting impact on families and individuals facing crisis in Connecticut by making a planned gift to Operation Fuel. By including Operation Fuel in your estate plans, you will become a member of The 1977 Society and help fulfill our mission of helping thousands of Connecticut residents struggling with their energy needs who have no other place to turn.
A gift through your will or estate will help us do what we do today, far into the future, and will improve the lives of Connecticut families and individuals for generations to come. If you have already included Operation Fuel in your estate plans, please let us know so that we can welcome you as a member of The 1977 Society.
If you have Operation Fuel in your will, please contact the Development Director at 860-243-2345 ext. 3306 so we can recognize your generosity.
For more information on making a financial gift to Operation Fuel, please contact Elsa Monteiro at (860) 243-2345, x3306 or

elsa@operationfuel.org